History of Captain Fletcher's Inn and Navarro

(Navarro-by-the-Sea)
© by Hillary Adams, 2003
The Inn near the mouth of the Navarro River has served throughout its long history as a place of haven and rest. Its history is intimately connected with seafaring, the lumber industry and fishing. First built for sailors, it soon became a boarding house for single mill hands, then a stopping place for stagecoach travelers, and finally a fishing resort for travelers from all over the world.
Capt. Fletcher, in partnership with James Kennedy and Capt. Thomas Kennedy of San Francisco, built the inn during the 1860's for sailors who had to wait three days while their schooners were loaded with lumber from the Navarro Mill. The Navarro Mill was built in 1861 by Henry B. Tichenor and Robert G. Byxbee co-partners in the firm of Tichenor and Co. of San Francisco, on land purchased from Charles Fletcher for $1,200. The first mill was built on the Navarro Flats near Capt. Fletcher's home.
Charles Fletcher, a Scottish sailor, ship's carpenter and the captain of a whaling ship, came to the Mendocino coast ca. 1851 when he was about 22 years of age. He was the first European settler at the Navarro estuary. His granddaughter, Elsie Schaeffer Nystrom (later Farnsworth) says in a handwritten note: "My Grandfather Chas. Fletcher. Born of Scottish parents aboard a saling (sic) vessel in the china sea. He was a ship builder and a Sea Captain. He sailed into the Navarro harbor. . . this was in the early '50's."1
The 1850 census for Marin County shows that in November of that year Fletcher was living in a boarding house on Rancho Sausalito, and apparently working for Capt. William Richardson, who owned both Rancho Sausalito and Rancho Albion. Fletcher settled near the mouth of the Navarro, on Richardson's Rancho Albion.(for more on this issue, see The Charles Fletcher Society pages).
Fletcher sells his claim, marries and builds a home (1860's)
In June of 1859, Fletcher travelled to San Francisco to become a naturalized citizen (June 17, 1859). Perhaps he had already been approached by Tichenor and Byxbee concerning the sale of his land.
On November 21, 1860, having lived alone on the Navarro estuary, hunting and fishing, for nearly ten years, Fletcher sold most of his mile-square land claim to Henry Tichenor of San Francisco and Robert G. Byxbee, his partner, "for purposes of building a lumber mill or mills," retaining only the area around his redwood cabin "as a homestead and ferry." The property he retained was described in the Indenture: "...Except the house now occupied by the said party of the first part [Fletcher] and the land adjacent thereto bounded as follows, commencing at the south East corner of the fence now enclosing said house, thence running Easterly about two hundred yards to a cluster of Laurel trees, thence northerly to the mouth of a small slough and the Navarro river, thence following the bank of the Navarro River westerly about three hundred yards, to a point of rocks on the banks of said river, thence to the point of beginning..." (Mendocino County Book of Deeds [hereafter Deeds], Book I, pp. 124-125). Fletcher received in compensation $1,200.
The first Navarro Mill was built in 1861 by Tichenor and Byxbee on the Navarro flats to the northeast of Fletcher's cabin and ferry landing (for more information about Fletcher's ferry service across the Navarro see The Charles Fletcher Society)
With the $1,200 he received for his land, Charles Fletcher felt wealthy enough to marry and build a larger house to replace his small redwood cabin. Elsie describes the original cabin in an interview conducted in 1975: "His first little place that he built there was made from split timber, redwood timber split by hand. And the shingles were made by hand."2 She adds in her handwritten notes: "His home was built of split lumber from one tree (Redwood)."
On December 7, 1860, a few weeks after he sold his land, "Charles Fletcher, age 35 years, born at sea on board of a scotch vessel and now of the Navarro River..." was married by Justice of the Peace William Heeser to, "Mrs. Bridget Cooney aged 28 years, born in the County from Roscommon, in the Province of Connaught in Ireland and now of the county of Mendocino..." The census of 1860 lists Bridget Cooney as a widow living in a boarding house in Mendocino City.
By ca. 1862, Fletcher had probably built their two-story home with lumber from the mill. The unpainted redwood home can be seen next to Capt. Fletcher's Inn on an early engraving of ca. 1865-70 for the Navarro Mill Company.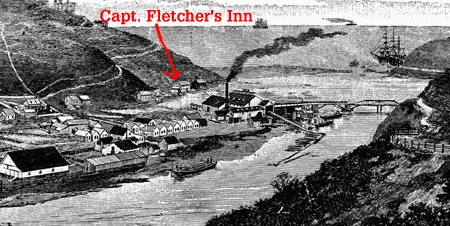 Engraving with home and Inn ca. 1870
Fletcher goes into business: ships and Inn (1860's)
Not long after his marriage to Bridget, Charles Fletcher went into partnership with two brothers, Capt. Thomas Kennedy of San Francisco and James Kennedy of Navarro. Together Charles and James built the first lumber schooner on the Mendocino coast, the Sea Foam (1862: "a fast sailor"), built for C. Goodall of San Francisco. The Mendocino Beacon, "Shipping Interest" of March 14, 1885 states for 1862: "This year the schooner Sea Nymph was built at Navarro by Kennedy and Fletcher. This was the beginning of ship building on the coast of Mendocino county."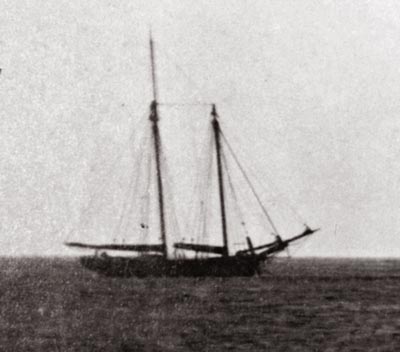 October 1868. 98 ton schooner Ino at Navarro Wharf. Built by Fletcher/Bryant for Robert Byxbee.
Robert J. Lee collection (Ginsberg): L-06112
The two men built other schooners at Navarro. Elsie says in her handwritten notes: "...he built vessels for the lumber trade. Built a wharf and a hotel." The Mendocino Herald (Ukiah) of February 28, 1868 notes that: "Fletcher and Kennedy are building a new schooner at the mouth of the Navarro which will be ready for service about the 1st of May. It is a large sized vessel and will be able to carry 250,000 feet of lumber. Fletcherand Kennedy are 'bricks' and deserve the credit of being enterprising men. Tom Kennedy will be the Captain." David Warren Ryder, in his book Memories of the Mendocino Coast (San Francisco: 1948, p. 24) says "At Navarro, Charles Fletcher built six or eight of these ships [lumber schooners]."
The wharf Elsie refers to in her notes is probably the breakwater Fletcher built at the mouth of the Navarro: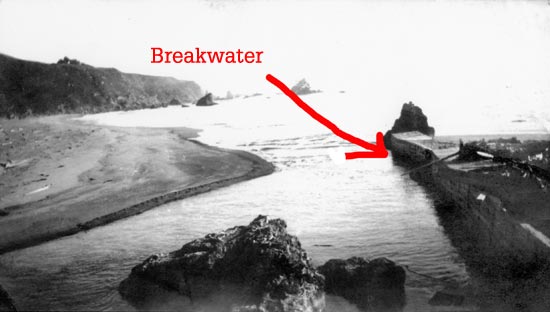 Photo of Fletcher's breakwater.
Hattie Thurston Collection
Fletcher's granddaughter, Elsie, described the breakwater: "They found that the mouth of the Navarro River wasn't deep enough at times to get the boats out into the ocean. So my grandfather built a breakwater. It was fastened on this big rock out to that pointed rock that sits in the mouth of the Navarro River. That's called Pinnacle Rock. Between that and the bluff up across the beach to a big rock there, he made this breakwater. It was over six feet square. It was built out of huge big timbers and filled with rocks and anchored at both places. After he built that, the river never closed up and it kept the mouth of the river deep."3
On April 3, 1865, Tichenor and Byxbee sold back to Fletcher one and one-half acres of land for $1.00 described as: "commencing at a fence at the North West corner of the Slaughter House of the Navarro Saw Mill twenty two (22) feet back from the South bank of the Navarro River. Thence following said fence westerly two hundred and thirty three (233) feet to a fence. Thence following a line of fence Southerly two hundred and twelve (212) feet to a fence, thence following a line of fence Easterly three hundred and two (302) feet to a fence. Thence following a line of fence North Westerly Eighty (80) feet to a fence. Thence Northerly Seventy (70) feet to the place of beginning and containing one and one half acres more or less" (Deeds, Book I, p. 656). The land may relate to the area where Fletcher and Kennedy planned to build an Inn.